Why hide IP address?
Everyone has their own reasons to hide IP. Some people hide IP to access the blocked sites (ex. facebook and youtube) in China. Some people hide ip in workplace to avoid the IT dept seeing what they are doing online. Some people simply don't want sites to trace their visits.
Websites can know much information through your IP address. For example, from your IP address , we can know you are from . Hide IP to protect your online privacy.
How to hide IP?
An Internet Protocol address (IP address) is a numerical way of identifying your computer on Internet. Unfortunately it's impossible to browse the Internet without an IP address. However you can hide your real IP address by simply changing it. Here are some methods by which you can hide IP.
Http Proxy
The most common method to hide your IP address is to use a proxy server. All the browsers (chrome, firefox, ie, opera, safari and others) support the proxy option. When you set a proxy in browser, the proxy will fetch the web pages for your browser. The webistes regard the IP of proxy as your IP so it cannot trace your real IP. Thus the proxy help you to hide IP.

How to use http proxy in browser? You can manually set the proxy option. Here is a tutorial. We recommend using Elite Proxy Switcher (Free Edition) to set the proxy for your browser. The free edition is enough for you.
Where to get http proxy? You can find some free public proxies here and here. If you want to buy proxy, we recommend YourPrivateProxy (private proxy) and My-Proxy (public proxy).
Web Proxy
Web proxy is the easiest way to hide IP. Web proxy is a website with a address bar. Just input the URL of blocked site into that bar and click the "Surf" button. Web proxy will fetch the web page for you showing on its own site. Here is the screen shot of a famous web proxy Hide My Ass.

The problem is that web proxy doesn't support all the sites. It replaces the video player to fix the problem for youtube. But it can't fix hulu. Another problem is the security issue. If you use web proxy to visit secure sites (ex. bank or paypal), your information may be intercepted.
Free web proxy usually has many ADs on the page. If you want a clear web proxy, you can try paid web proxy service.
VPN
VPN is short for virtual private network. It uses strong encryption to ensure that only authorized users can access the network and that the data cannot be intercepted. It's usually used to securely connect the branch offices of an organization to its head office network through the public Internet. Now many VPN vendors open this service to public. You can use it to hide IP. We recommend the VPN service of Hide My Ass. It has many IPs that you can choose from.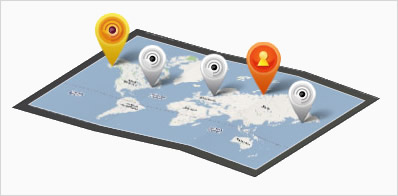 There are two problems of VPN. (1) If you use VPN, all the programs will use the VPN connection. You can not choose which program use VPN and which use direct connection. (2) Because of the strong encryption, VPN is much slower than direct connection.
Socks Proxy
Socks proxy is similiar to http proxy. The diffrence is that socks support all the Internet protocols (such as http, ftp and voip) while http proxy only support http. So it supports more programs besides browser. It supports skype, thunderbird, filezilla, mIRC and any program/game that has a socks proxy option.

Same as http proxy, there are two types of socks proxy: public socks and private socks. You can get some free public socks proxy here and here. If you want to buy socks proxy, we recommend My-Proxy (public socks) and 5socks (private socks). Here are more featured socks proxy vendors we selected for you.
If you only use socks in browser, we recommend using Socks Proxy Checker (Free Edition) to use socks. The free edition is enough for you to hide IP.
SSH Proxy
SSH proxy is encrypted socks proxy. SSH is short for Secure Shell. SSH protocol is usually used to control a Linux server via a secure channel. Some program (putty or myentunnel) can convert SSH connection into encrypted socks proxy service. The configuration is a bit difficult for non-technical personnel.
With SSH proxy you can completely hide IP. The problem is that the speed of SSH proxy is slow because of the strong encryption. There are few SSH proxy vendors but you can find some free SSH proxy here.
Proxy Software
There are many software can help you to hide IP. Among them we recommend My IP Hide. It is a http proxy with fast encryption which is much faster than VPN and SSH proxy. With My IP Hide you can completely hide IP while watch youtube smoothly.

Just keep My IP Hide (MIH) running when you surf the Internet. If you exit or disable MIH, you will use direct connection. For Opera or Safari, you need to manually set its proxy option to direct connection.
Conclusion
Here is the comparison of the methods to hide IP. From the table we can know VPN and My IP Hide is the best choice in all cases. If you don't need traffic encryption, you can choose http or socks proxy. With web proxy you can easily hide IP. But there may be problems with some sites such as facebook and hulu. If you know how to configure SSH proxy, you can completely hide IP with it.
Method
Score
Pros
Cons
Price

(estimate)

Vendors
Http Proxy
fast and cheap
not bypass all firewalls
$9/month
My-Proxy, PrivateProxy
Web Proxy
easy to use
not support all sites
$13/month
Proxify, HideMyAss
VPN
support all programs
slow speed
$11/month
Hide My Ass
Socks Proxy
fast speed
not bypass all firewalls
$28/month
My-Proxy, More Socks
SSH Proxy
unblock all sites
slow and few vendors
$12/month
Free SSH Proxy
Proxy Software
fast unblock all sites
only support browsers
$8/month
My IP Hide
* Every vendor has different pricing. The price showing in the table is just for reference.